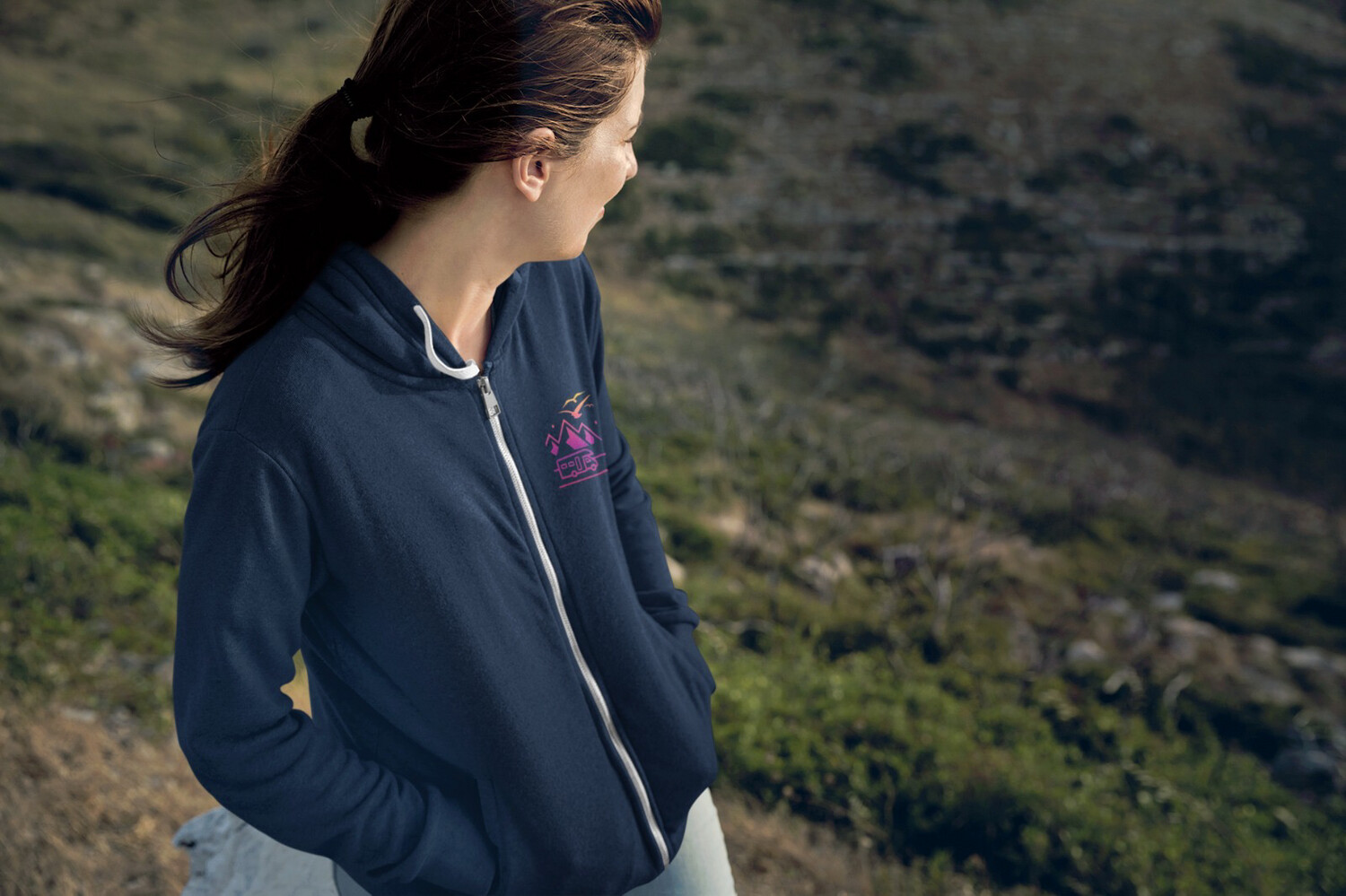 The PERFECT Vanlife Zip-up hoodie
00012
Perfect for cosy nights around the campfire
Product Details
Welcome to your new favourite vanlife zippy!
This high-quality heavy weight zip-up hoodie is perfect for travelling, cosy nights by the campfire or just chilling as you plan your next trip. A small vanlife icon on the front left shows your passion for life on the road, and on the back you'll find our iconic 'birds' on the shoulder.
COLOURS:
Navy (with white motif)
Navy (with sunset motif)
Note: Navy has a zip matching the colour of the garment- NOT white zip (some of pictures show an older version) but inner hood lining and cords are white on both colour options
This zip-up hoodie is machine washable (inside out, on a cold wash to protect the print) and can be put in the tumble dryer on a low setting (but if you can avoid it, you'll find it looks newer for longer).
Made from Heavyweight UltraSoft Peach Finish fabric (65% cotton, 35% Polyester)
3 panel waffle lined fabric hood with Ecru flat chunky hood cords
Proper pockets with concealed iPod and phone pocket
Ribbed hem and cuffs with thumb hole
Twin Needle stitching detail with tape neck and back neck yoke
SIZING
Sizes are unisex fit, but based on men's sizing. As a guide, I'm a UK 10/12 ladies and wear a size S for a slim fit, medium for a baggy one.
XS: Fit 34" chest
S: Fit 37" Chest
3XL: Fit 53" Chest
SHIPPING: This product is made in the UK by a small business. We are proud to support local businesses and love the high-quality product they produce. However, we are not Amazon and don't carry large quantities of stock.
We process all orders when they arrive, which involves ordering the garment from our supplier, then printing, setting, drying and shipping. We aim to get all orders shipped within 10 working days.
If you live outside of the UK, you may be charged additional tax on delivery, which is dictated by your government and not anything we control.
If you live outside of Europe, please contact us for shipping costs before you order.
Save this product for later