This blog is growing and growing and while that's good in so many ways (THANK YOU!), I know that it can be difficult to find information when you want it quickly. The biggest question we get asked on emails and social media is "what do you use for…"
I thought it would be helpful to put those answers together on one page and I have tried to include as much stuff as possible. If there's anything else you'd like to know, just ask! 🙂
(There's an excellent chance this post contains affiliate links, meaning if you buy through them we get a small commission which allows us to keep this site going. We appreciate your support- thank you. Wandering Bird Adventures is a participant in the Amazon Services LLC Associates Program, an affiliate advertising program designed to provide a means for sites to earn advertising fees by advertising and linking to amazon.com/ amazon.co.uk)
Best Motorhome Road Trip Accessories
Sat Nav
We use and love Co-Pilot, which is an app you download onto a phone or iPad. We use a second-hand ipad and mount it onto the dashboard, which works great for us. You want the 'Caravan' option, even with a Motorhome.
Generator
I fought getting a generator for a LOOOOONG time (didn't want to be THAT motorhome) but I have to be honest, this one has been great. We only ever use it far away from other people, (such as camping in the wilds of Austria!) and it's small enough to fit neatly under the bench seats. We almost didn't buy it because it isn't a well-known make, but I'm so glad we took a leap of faith with it!
Inverter
This isn't just a 'nice to have' in our motorhome- it's a necessity. With 3 laptops, 3 ipads and numerous phones, (I think we're up to 6 now!) we always have something which needs charging. We run this inverter as we're driving and everything is nicely charged when we arrive. We also use these car chargers to increase our charging capacity!!
WiFi
Another necessity! Much as I love the idea of being in the middle of nowhere so that none of those 6 phones (see above!) are ringing, the only way we afford this lifestyle is via my husband's work and this blog- both of which require access to the internet on a regular basis. We love and use our little yellow dongle, but it looks like that's now been discontinued- the black version is the newest update of it, so we'll be upgrading to that sometime soon.
FirePit
Wild camping wouldn't be the same without this awesome fire pit. I love that it folds flat, has a built-in groundsheet to protect against sparks, and can be classed as a BBQ if you're in a campsite which doesn't allow fires. **sssshhhh** As always, please use with caution and make sure it's out fully before you go to sleep.
Best Travel Accessories
Drone
If you are following us on Youtube, you'll know we LOVE our Mavic Pro Drone and we use it pretty much everywhere. (Just not in the rain!!) It's a brilliant drone, as is the smaller Spark- which is probably a better (and less expensive!) starting point. Don't forget to buy a case for your drone too- it's invaluable.
Cameras
I love photography, although I'm honestly not great at it yet. Mostly I use my iphone for EVERYTHING, as I always have it with me and it's easy to carry. Having said that, I'm hoping to improve my night shot & long exposure skills this year, which requires a 'proper' camera. I love the look of this Nikon, but the price tag scares me a bit, so I'm checking out cheaper options too.
GoPro
Most of our videos while travelling are shot on our Go Pro Hero 5. We got this one as it fits onto the motorbikes easily and is wide-angled, but I'm looking at upgrading it to a Hero6 with a screen soon- the quality of those is amazing!
Power Bank
Brilliant for when we're staying somewhere for a couple of days to work… and that means needing to charge laptops! Get one which can be recharged using 12v.

Best Doggy Travel Accessories
Our little adventure pup, Mac, goes nearly everywhere with us and it always amazes me how much STUFF a puppy needs. Honestly, it's like having a baby again! Here are the things we've found so far which we LOVE:
Travel Crate
Easy to move around and fits neatly in the boot- win win. I also LOVE this sloping one from Ellie Bo. We use their 'normal' crate at home when we're not travelling and we love the quality of it.
Food Bowls
These are GENIUS. Now you can portion out one or two of your dog's meals and put it into the bowl, as well as some water for the journey. Great for when you're travelling in a Pet-Friendly cabin.
Carry bag
I love this. I use mine every single day. It allows me to keep all Mac's stuff for walks (tennis ball & poop bags), a chew for if we go to a cafe and other random things all together so I don't forget them as I'm ushering an over-excited puppy out of the door. It's also wipe-down-able (I really hope that's a word!) so I can keep his treats in the treat pouch ready to hand over when he does something awesome (like not run into the road!)
Best Blogging Resources (for other bloggers)
This is not a "Blog about Blogging", but I know many of you lovely readers also have travel blogs of your own. Yay to you! Here are some of my favourite blogging resources which I love & use on a regular basis- hope they help you too. (Nope, you're not going to find a BlueHost recommendation here **Cheers all around**)
Ahhhh Pinterest. I love you, then I hate you, then I love you again. But I CANNOT spend 17 hours a day pinning random stuff just so that you love me too! Tailwind is awesome at that- it pins day and night so it looks like you're always active. And it's totally Pinterest Approved, so you can use it with confidence.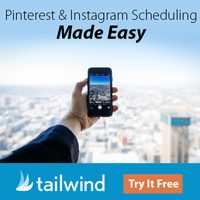 Blogging Courses
Oh dear lord. There are SO MANY blogging courses. Like, SOOOO many. How on earth do you know which ones are worth investing in? (And it is an investment- some of these things are EXPENSIVE!) I was lucky enough to get a few courses for my birthday (I think my family finally realised I was serious about this blogging lark) so I have taken enough now to compare and contrast. These are the ones which definitely helped move my blogging journey forward and didn't just repeat the same stuff you can find for free on Google!
(Coming soon!)